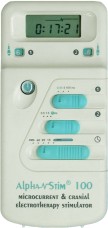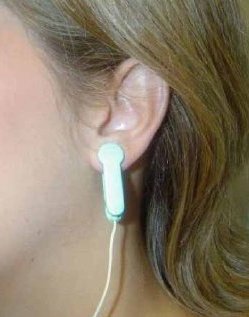 The Alpha-Stim® AS-100, which offers both Cranial Electrotherapy Stimulation (CES) and Microcurrent Electrical Therapy (MET), is an FDA-approved device for treating pain, anxiety, insomnia, and depression. (note: the AS-100 model has been replaced by the M model)
A CES treatment for anxiety, insomnia, and depression consists of simply clipping the probes onto your earlobes and it provides very low electrical currents, similar to those found naturally in the body, for either 20 minutes or 60 minutes. The person undergoing Alpha-Stim treatment will often report a pleasant, relaxed feeling of well-being.
An MET treatment for pain consists of surrounding any painful area of the body with the probes for ten seconds in multiple areas, which is typically completed within five minutes. After the MET treatment, a 20-minute CES treatment using the ear clips completes the procedure.
Using the Alpha-Stim® AS-100, I am now offering treatments to clients. You can choose either a Massage with Alpha-Stim or an Alpha-Stim House Call treatment without a massage (see the Services and Rates page for details).
If you have been diagnosed with any of the following conditions, it has been reported that significant improvement was made in persons with these conditions after using the Alpha-Stim for at least three weeks:
Back Pain
Migraine
Cervical Pain
Headaches (non-migraine)
Hip/Leg/Foot Pain
Psychological (all cases)
Shoulder/Arm/Hand Pain
Anxiety (alone)
Carpal Tunnel
Anxiety (with other)
Arthritis Pain
Anxiety/Depression
TMJ Pain
Depression (alone)
Myofascial Pain
Depression (with other)

CRPS
(was RSD - Reflex Sympathetic Dystrophy)

Stress
Fibromyalgia (alone)
Chronic Fatigue
Fibromyalgia (with other)
Insomnia
At present, there are over 125 research studies on CES in humans. The overwhelming majority of the scientific research is extremely positive.
---
For clients who wish to more effectively control their condition by using the Alpha-Stim daily at home, units are available for purchase. The FDA requires that the client first obtain a prescription from a licensed healthcare provider (in Florida, the prescription has to be written by a provider who can legally diagnose conditions, such as an M.D., a P.A., or a Chiropractor).
For more information on purchasing an Alpha-Stim or current pricing, call or e-mail Howard.
---
Google Search:
For information, testimonials, and clinical study reports, go to:
There are also video clips of television news reports (high-speed internet connection recommended) on the Alpha-Stim. Click here to watch a video clip on YouTube of a Special Report from Orlando Channel 6 with Dr. Anita Spitz of Titusville and click here for their follow-up report with a local woman who saw that Report and had suffered from four migraines a week before contacting Dr. Spitz and using the Alpha-Stim.
Also, check out the video clip from Dallas Channel 4 with Pensacola native/University of Florida graduate/ three-time Dallas Cowboy Super Bowl champion/Dancing with the Stars TV show winner, Emmitt Smith, using the Alpha-Stim during his pro football days. Click here to watch his his video on YouTube.
Click here to e-mail Howard
for more info.
Alpha-Stim Testimonials
"With massage therapy alone, the intensity of my migraines decreased; then, last month, my therapist added the Alpha-Stim with the massage ... over the last three weeks I've noticed a decrease in the number of migraines."
- Peggy Carter
Melbourne, FL

"Because of my job, I'm on my feet walking on concrete almost eight hours a day, five days a week. I had pain in my knee every day for about a month and I figured it was from the flooring. The pain was so constant, that it was even causing me to be irritable. Howard recommended an Alpha-Stim treatment, so I gave it a try, even though I was skeptical. After just a five-minute treatment, the pain level in my knee went from a '5' (on a scale of 1 to 10) to a '0'. It has been over a week and even though I still walk on concrete eight hours a day, I have no pain, which is amazing!"
- Lisa Weber
Satellite Beach, FL
More Patient Reviews are available on the Alpha-Stim Facebook page at: