The testimonials below are grouped by either the Type of Massage or a Specific Condition.
Click a selection in the box below to jump to that section.

---
---
Testimonials from Long-Time Clients




One of the true tests of effectiveness and professionalism for a licensed massage therapist is the amount of clients who have been loyal to that therapist for a long time. Below are testimonials that Howard received from a few long-time clients who understand the value of getting massage on a regular basis from a professional therapist.

"I first got a massage from Howard 17 years ago and I've continued to get one at least once per month. Howard is very professional. He keeps me reminded of my appointments, greets me politely for my massage and I am very comfortable in his presence during the massage therapy sessions.

I typically enjoy a relaxation massage each month, but over the many years I have had Howard help me with my ailments like lower back, hip, shoulder and other issues. I have referred many many many friends to Howard, and they have also referred others to him. He does magic with the trigger point therapy if you have issues that need that. But I really really enjoy my monthly relaxation massage."

- Lori K., Triathlete, Indialantic, FL (2019)

"I've been getting both therapeutic and relaxation massages from Howard for the past 17 years. I get them once a month or more often, if he is working on a particular problem. Howard is extremely professional. Regarding my comfort level, he leaves everything to my discretion.

Over those 17 years, he has helped me with quite a few issues, including TMJ, neck pain, tennis elbow, trigger finger, lower back pain, hip pain, inner thigh muscle pain, knee pain, and plantar fasciitis....in other words, from jaw to foot!!!! Because of all that he has helped me with, I've sent at least 9 or 10 family members, friends, and co-workers to him.

In areas that are bothering me, Howard really listens to my concerns. He inquires, during the massage, as to whether he is using too much pressure on those areas or if it needs more. And if I want a relaxation massage, it is heaven!"

- Diane C., Melbourne (2019)

"

I have been seeing Howard for seventeen years as my massage therapist. At the time I was experiencing tight muscles that were hampering my daily movements. Howard's trigger point therapy started releasing the tension in my muscles.

I visit Howard every six weeks to avoid my muscles becoming so tensed. He concentrates on troubled areas using trigger point therapy where needed. I feel so much better afterwards.

I would recommend Howard to anyone who is seeking massages. He is totally professional, friendly and very informed. Friends that I have referred would also verify these truths."

- Gina L Satellite Beach, FL (2019)

"I have been getting massages from Howard for nearly 16 years. During that time, I've been getting a deep tissue massage every month.

Howard is extremely professional. He is dedicated to his clients and in improving their well-being. He is quite knowledgeable on the human anatomy and in identifying the trigger points that can cause the aches and pains. I used to have lower back pain that wouldn't allow me to stand for long. Regular massage by Howard has improved that tremendously. I also have some neuropathy and I believe that regular massage treatments help in keeping that problem at bay.

I have sent my parents to be treated by Howard as well as friends in need of a therapist. I've learned over the years how much he is interested in making your body feel better. If you are having a problem that he hasn't encountered before, he will take the time to research to determine the best course of treatment. He is a gentleman who is kind and caring."

- Lisa C., Viera, FL (2019)

"I've been going to Howard for therapeutic massages for 12 years and I continue to get a massage once a month. Howard has always been nothing but professional toward both me and my wife. I have had many neck and back problems over the years and after trying a lot of different massage therapists in our area, Howard was the only one who was able to help me get pain relief and get my neck and back flare ups under control. After he got my pain under control, I normally only have to go to see him for maintenance now. But when my pain does flare up, he always helps get it under control.

Since I started seeing Howard and my wife started seeing him for her massages 9 years ago, we have sent many friends and family to him with great results for them, just like us. He is a great massage therapist and if you choose to see him for your massage, I'm confident you will get great results with him just like I have."

- Ron Long, Satellite Beach (2019)

"For 10 years, I've been getting massages from Howard and I get a regular massage at least once or twice a month.

Howard is the most professional knowledgeable Massage Therapist I have ever gone to. I have gone through many therapists for years until I found him. He has kept me going for years, I play racquetball, pickleball, mow my own lawn and have kept active in my 60's due to his trigger point therapy. I have had bouts with sciatica, tennis elbow and lower back pain and he has always helped me with all of them. I would never be able to continue my active life without him in my life. Thank you Howard.

I have sent numerous family and friends to Howard, who are still clients of his for years. Once I believe in someone, I can't stop talking about them and what they can do to help. I tell all my friends and family that if there is anyone who can help them, it's him. I let them know how much time and money I have wasted looking for him throughout the years. I ask them to give Howard a try and once they do, they find out that I was right!!"

- Jeri K., Melbourne (2019)

"I first went to Howard for a massage 10 years ago and I've been going to him ever since. I get regular massages at least once a month. He is the most knowledgeable and professional massage therapist I have seen. I was having severe headaches because of neck issues. After going to several other massage therapists, Howard was recommended to me. He was able to address the original issue and now, as long as I see him once a month, I am headache free, and have been for several years.

During the past 10 years, he has helped me with neck stiffness (headaches), knee (IT band), hand and feet tendon issues and I've referred at least 6 friends and family members to him.

Howard is very professional, knowledgeable, and caring. He always greets me and asks if I have any new issues since the last time he saw me. He remembers what areas we were working on at my last massage and asks if I have seen any relief. If there is a new area that is bothering me I usually have an email waiting for me when I get home, because Howard has researched it and sent information for me."

- Trudi O., Rockledge (2019)

"I've been getting massages from Howard for 10 years. Although I started out about every 2-3 months, I soon determined I needed to go more often. I go once a month for a one hour session.

Howard is extremely professional. I have never felt uncomfortable with him. He has helped me with problems in my hands and arms, trigger points in my chest, back and piriformis syndrome pain. I always tell friends and family about him--when people ask me who I go to for massage, I also share my very positive experiences with Howard."

- Carla L, Titusville (2019)

"I've been going to Howard for massage for nine years and I get massage on a regular basis at once a month. I feel very relaxed with him. If I have a question, he answers it. If he doesn't know, he usually finds out and sends me an email or text with the answer later that day.

Howard has helped me over the years with pain, fibromyalgia, and scoliosis. I've sent several friends and family members to him so he could help them, too. Howard is very thorough and can help get rid of some serious pain on a regular basis."

- Betsy, Melbourne (2019)

"I have been going to Howard for nearly 9 years. I get trigger point massage every six weeks. From day 1, Howard has displayed professionalism. He described trigger point massage for me with a thorough explanation of how it would help. Initially I had to return weekly, but when Howard recognized that we had gotten my piriformis problem under control, he suggested that I did not have to see him every week. I appreciated his honesty.

Howard has really helped me with the muscles in my hip, mainly the piriformis muscle, which tightens for some unknown reason. He taught me stretching exercises that I can do between visits.

I have suggested Howard to many friends over the years, and many of them have gone to him. They always report back to me their appreciation that I told them about Howard. They have been so pleased. For others who haven't yet been to Howard for massage, I share my very positive experience, and I also refer them to his website so that they can read more about him and the types of massage that he does…ways that he can help them."

- Linda L (2019)

"I've been getting therapeutic massages from Howard for 6 years and I get a regular massage once a month. He is very professional and very knowledgeable. Since I started seeing Howard, he has helped me with piriformis syndrome, lower back pain, neck and shoulder pain. I've also sent a friend and two family members to him so he could help them, too.

If you're thinking about seeing Howard for massage, I can tell you that it's the best massage you will ever get."

- Susan W., Titusville (2019)

"I got my first massage from Howard over 5 years ago and I should have started earlier. My wife discovered Howard's services over 9 years ago and told me I needed to go to him for quite a while before I started. Now I kick myself for not starting sooner. Since then, I've been getting regular massages every 4-6 weeks depending on my travel schedule.

Howard is a true professional and takes his craft, his business and his reputation seriously. He has helped me with problems in my lower back, neck, and shoulders. Howard is able to find the muscle band that I abused and get it to release. When I first started I was a mess, there was a total of more than 45 trigger points in my three problem areas. Now there are either none or just a couple. I always feel loose and limber when I leave.

My wife started with Howard and it has spread through our extended family including my sister, my elderly parents (even my mother in her 80's after 40 years of rheumatoid arthritis) my son, brother and sister-in-law. I even sent a colleague from work who now has regular appointments.

If someone is considering seeing Howard for massage, without hesitation, I give him two thumbs up! Don't delay like I did. Howard is professional, gets results."

- Bill B., Melbourne, FL (2019)
---
Relaxation Massage

The most basic form of massage is called Relaxation Massage or sometimes Swedish Massage. It's helpful for relieving stress and tension, especially for people who suffer from anxiety and insomnia. It mainly uses slow, gliding massage strokes with either a light or medium pressure that calm the nervous system. It is not the type of massage for someone who's having pain in muscles or tendons or someone who prefers a deeper, more firm pressure--the more appropriate massage for that is called Deep Tissue Massage or Therapeutic Massage (click here to read What is the Difference Between Relaxation Massage and Deep Tissue/Therapeutic Massage?).
"Howard is very professional and gives an excellent massage. He makes me feel very relaxed and comfortable."
- Sherry R., Malabar
"Howard is the best. I have received the most relaxing, thorough massages from him. He targets my troubled areas and finds others that I didn't even know that I had."
- Diane C., Palm Bay
"You listen to my needs and really find the places in my muscles that need work."
- K. D., Grant
"Howard is concerned about total health, wellness oriented approach, makes massage a healing experience"
- M. K., Suntree
"You give the best massage in Melbourne!"
- A. M., Melbourne Beach
"You are a great massage therapist and I receive tremendous relief from massage therapy provided by you."
- K. M., West Melbourne
"You are the best; professional, effective; makes a huge difference; able to relieve tension most effectively in shortest amount of time."
- C. O., Palm Bay
"Your work is excellent; leave me pain-free; not afraid to work on neck; can do deep tissue without hurting."
- L. P., Melbourne
"I feel great afterwards. Howard isn't chatty during massage. His massage is the full amount of time paid for (one whole hour)."
- E. D., Melbourne
"Howard has good massage technique, he doesn't talk too much, and he has great hands."
- T. C., Melbourne Beach
"You help me feel better and get RESULTS!"
- E. N., West Melbourne
"You're concerned about your patients."
- B. R., West Melbourne
---
Deep Tissue/Therapeutic Massage

The type of massage that's best for someone who's having pain in muscles or tendons or someone who prefers a deeper, more firm pressure is called Deep Tissue Massage or Therapeutic Massage (click here to read What is the Difference Between Relaxation Massage and Deep Tissue/Therapeutic Massage?). In order to relieve pain in the muscles/tendons or to increase range of motion, a variety of special therapeutic techniques are used. Most of these techniques go deeper into the soft tissue and can cause some discomfort, but Howard is skilled at working within the pain tolerance of each person--some people have a high pain tolerance and others have a low pain tolerance, but everyone can get results, regardless of the amount of pressure he or she can tolerate.
Triathlete Looks Forward to Monthly Treatments
"Because of my very active and busy lifestyle as a teacher and triathlete, "Howard's Hands" make a difference in my life through deep tissue, reiki, or just relaxation methods. I would not be without his treatments each month and look forward to every experience.

Howard is very attentive to details. He will ask what problem areas you have and concentrate on that. He keeps excellent records and will ask about how an old injury is doing and if what he did in the past helped it. He spends just the right amount of time on each area, and will adjust anything if I ask him."
- Lori K., Indialantic
"As a golfer, recently transplanted from Virginia, my need for a good massage therapist grew as my shoulders, hips and neck grew stiffer and my golf game declined. Since July 2003, I have had a few different therapists but nothing seemed to be helping. Then I found Howard. After the first 1.5-hour session, I knew I had found my new therapist! My next golf game, where I felt strong yet flexible, reinforced my feeling that a good massage therapist can make all the difference."
- Melanie D., Indian Harbour Beach
"You apply the right amount of pressure to relieve muscle tension of reach individual. Total relaxation."
- L. H., Malabar
"You took the time to get to know me and my specific needs."
- M. J., Palm Bay
"You are a professional and very compassionate, excellent massage--get to the hot spot."
- G. L., Satellite Beach
"You make me feel better (not just day of massage -- overall); very personalized service."
- K. O., West Melbourne
"Your massage really relieves muscle tension in neck.
- B. H., Malabar
"You listen and address my problem areas. You provide an excellent deep tissue massage. Just the right amount of pressure."
- L. C., Melbourne
"Very easy and pleasant to be around. Gives a great deep tissue massage."
- B. S., Palm Bay
"Your knowledge and the fact that you continue to learn more about the new developments of massage therapy and health issues (is important). You don't seem to rush through the massage and you make a client feel as though you are very concerned and also very professional."
- D. M., Palm Bay
"Howard is very respectful and has great hands. Makes me feel comfortable having a massage from a man."
- L. C., Palm Bay
Knee Pain Gone in Thirty Minutes
"I recently developed a debilitating pain in my knee. It got to the point where I couldn't straighten it and went to my doctor to try and get some relief for the pain and diagnosis of my problem. His advice was to take Aleve and if it didn't get better to get an X-ray and ultimately an MRI if that didn't reveal anything. That day I got an appointment with Howard and when we talked about my pain he quickly identified it as trigger point related. After a 30 minute treatment I was not only able to straighten my leg, but felt no discomfort and had no need for any medicine whatsoever.
Many times in my active life I've experienced discomfort and no matter how remote it seems, many times the solution is trigger point therapy. I can't imagine the amount of unnecessary pain and expense that is wasted on such an easily treated condition. Howard is a great trigger point specialist, as well as, an excellent massage therapist. He quickly finds the problem and always has an immediate solution. I could not recommend him any higher and in the future no matter what the pain is, I'm going to explore the trigger point solution first and everything else after. Thanks Howard, you are a life saver, or at least a great pain saver."
- Eric F., Melbourne
"I have been a loyal client of Howard's since 2004.

It all started with an ill fated roller-blading accident where I underestimated how far I need to jump and overestimated how far I could actually jump. Needless to say, I fell on my ass. Hard.

I was referred to Howard at Space Coast Massage and in only one session he got me back up and moving again.

Since that roller-blading incident, Howard has helped me with pain and various muscle spasms from stress and sports for over 6 years. I have been to physical therapy and the results were never as comprehensive or as thorough as when I would get deep tissue massage from Howard.

I have referred family members, friends and colleagues to Howard due to the deep level of trust that we have built over the years. I know that he will treat everyone with great respect and healing hands."


- M. Stockstill, Melbourne (2012)
"With continual neck, shoulder and backaches caused by the computer, driving and life, I have received numerous massages and acupuncture treatments in the past. After all of my efforts, I have found that there is nothing that helps more than a massage from Howard. He is gifted in finding those difficult to find and reach trigger points and works until the ache has subsided. There has been no one else who gives me this kind of relief from a deep tissue massage. I hope he will relocate to Sarasota!"

- Lynn D. Ludecke, Sarasota, FL
Tried Other Massage Therapists, But No Comparison
"Both my wife and I see Howard and he has spoiled us. He is very good at listening to what you need for the visit and applying his knowledge. I don't have a chronic pain problem but I go to see him for the feeling of wellness and calm after I see him. My wife and I both have been to other therapists due to our location but we always end up comparing Howard to them. Sure wished we lived closer!!"

- Ron R., Longwood, Florida
---
Reiki




Reiki is not actually a form of massage, but a form of touch healing. It was developed by a doctor in Japan who required any practitioner to be certified in Reiki. Howard has been certified at Reiki Level II since August, 1998. He has experienced some miraculous healing results, but there are no guarantees with Reiki.

"My first Reiki ex

perience has made me a believer! Not that I was cynical in the first place, but I didn't know exactly what to expect or get out of it. My Reiki healing session definitely had an effect well beyond the actual physical experience, but that is not to suggest that the experience itself was not awesome!!! When Howard first put his hands on my head, I felt immediately relaxed and thought, "ok, this is nice"; but it was when he placed his hands on my collarbone (which turns out to be my "throat Chakra") that things really started to happen! I literally opened my eyes three times to look around because I was convinced that Howard was somehow over me fanning the air, or doing something to make air bounce off the entire length of my body; I was not imagining it; it was a definite physical feeling of air bouncing up and down... bizarre.. but a wonderful and relaxing sensation... It was the next day though, that I really felt the full effects of the treatment: after an evening of feeling VERY peaceful, and the most restful night's sleep I'd had in a long time, I was actually able to air-out and clear-up long-standing communication issues with my boss and co-worker... It turns out, the "throat Chakra" deals with open and honest communication, and whether cynics would prefer to call it coincidence, I am convinced that as I was feeling the strong PHYSICAL reaction during my treatment, there was something deeper happening, and I now have a peace of mind at the workplace that I have not known since I began there over a year ago! The only down-side of my Reiki treatment and massage, is that I CAN'T WAIT TIL MY NEXT ONE!!!"

- Mel G., Indian Harbour Bch.
---



Headaches can be triggered by many things, but for the average person, it's simply tension in the muscles and tendons of the neck and shoulders that is the root cause of their headaches. Howard has seen many clients who come to him with a headache (or a headache with neck/shoulder pain), then leave one hour later either with no headache or at least one that's 50% to 80% improved (some clients need multiple massage therapy sessions to get closer to 100%).

Unfortunately, many people will first see a doctor or chiropractor to try to get help with their headaches, but they find that many of those health professionals do not consider how important releasing tension in the neck and shoulder muscles with massage may be. Most doctors will just give the person patented man-made chemicals (i.e., prescription drugs) through a shot and/or ones to take by mouth, but many times, those don't help AND come with side effects that are far more serious than the headaches, such as fast heart rate, palpitations, blurred vision, or urinary retention/frequency!

Even people who get migraines have gotten relief with Howard's massage therapy that released their muscle and tendon tension. Due to the complexity of migraines, massage therapy isn't a "cure" for them, but tension in the neck and shoulders is one of the most common triggers and can be the reason that a migraine keeps "hanging on." Howard has been helping his clients get relief for their headaches that were caused by muscle and tendon tension since 2002, even after many of them had had tried doctors, chiropractors, and other massage therapists who weren't able to help.

Headache that Lasted Six Years is Gone

"I made an appointment with Howard because I was having low grade headaches (2-3 on a scale of 1-10) 24 hours a day. It was a dull ache at the crown of my head and occasionally accelerated to a 5-6 pain level. It never went away! I had had the headaches since 2011--over 6 years! They were not debilitating, but a general nuisance--always there and never letting up. They didn't get better with exercise, alcohol, pain killers, etc.

Prior to seeing Howard, I had been to 4 neurologists and 2 acupuncturists. I even had gone to the Mayo Clinic in Jacksonville--the neurologist there had put me on Norytriptilline--an old anti-depressant to help with the pain receptors. It worked for about a year and then stopped working! I had also tried Physical Therapy, Massage therapy from several sources, three Chiropractors (one doing FCR--facial cranial release--a techniques with a balloon inserted into your nasal passages and "adjusts" your sinuses--did this 2-3 times with no relief. I also tried over the counter ibuprofen and Tylenol, prescription amatryptilline, and I am sure other meds!

The first massage session with Howard was very informative and relaxing--I was surprised that I contributed to the treatment with my breathing--not just a straight massage. He explained that we would find the worst trigger points (he applied pressure around the base of my skull and I let him know when he hit one that was a 5 or above pain level) and then he applied pressure to them while I did deep breathing to release them. Howard talked me through all the techniques and explained that it might take a while for relief since I had had the headaches for so long. He was very encouraging.

After the first session, I felt a little better for a couple days, but then the headache returned. Howard explained that it was a good start, considering how long I had the problem.

I kept getting additional "good days" after each biweekly session and, after the 8th session, I was able to go a full two weeks without a headache! I continued getting massages to work out the deeper tension and for maintenance. I can now enjoy headache free days--a long time coming!

If you are considering seeing Howard for the same problem, definitely give his medical massage a try--it may take some time, but it is so worth it! The cost may be a problem, but if you look at the big picture and try to make this a priority for now (maybe cut back somewhere else), it should really make a difference!

- Tara E., Titusville
---

One of the most common conditions that Howard helps people with is neck pain. Many times, tight muscles and tendons in the neck can cause headaches, so it's important to release the tension in the neck to get relief. Howard has helped thousands of clients get relief from neck pain, with many of those having tried other massage therapists who weren't able to help.
"Been going to Howard every month for almost year. Certainly has helped the strain in my neck and shoulders. I have him do the deep massage, and it is the best hour of the month. Absolutely would recommend him. He runs periodic specials and gift ideas for the holidays.
- Sue C. Satellite Beach
"Howard is the best! Very thorough."
- D. M., Melbourne
"Howard takes care of problem areas to a T!! and knows his field. Has helped friends & family very well."
- S. C., Palm Bay
No More Daily Neck Pain
"I have had fibromyalgia with my main pain site in my neck and shoulders for many years. The constant pain affected all activities and aspects of my life. Sometimes I avoided certain activities. The constant pain increased my fatigue, which is a constant battle. I've previously tried getting care from a Chiropractor, Physical Therapy and other massage therapists, but never could get ahead of the problem.
The first massage session with Howard was tough and I had pain and soreness afterward, which he explained was normal. I was amazed by how many trigger points I had in my shoulders and neck. I got some pain relief with the first session, but it didn't last more than a week, which was also expected. I have been getting massages from Howard since November and, as I continued the sessions, I experienced less pain. By the 4th or 5th session, I had fewer headaches. I continued to improve and now have very few headaches, which I attribute to the release of the trigger points done during the massage sessions.
Because of the number of trigger points that I had in my neck and shoulders, it has taken 6 months to get the problem under control. The cause of my pain did not begin last month, but has gone on for many years. Realistically, I will have to continue with the massages for a long time, but compared to how it was before my first session with Howard, I simply have full days without pain in my neck and shoulders, which are occurring more and more. My goal is to get to the point where I will see Howard once a month for maintenance.
If you are considering trying massage therapy for your pain or limitation, let Howard evaluate your problem. Know that you need to be committed to consistent care in order to heal those areas that are injured. You may experience some pain, but it is short lived. Keep your eyes on your ultimate goal of getting out of pain."
- Ellen P., Rockledge

Able to Exercise Again After Five Years of Chronic Pain Resolved
"Before I started massage therapy treatments with Howard, I suffered from chronic neck, shoulder and upper back pain. I have been living with the condition for over 5 years, as I suffered from several car accidents and never fully recovered from one before I was in another. My neck was so bad that I couldn't turn my head to the right without feeling pain. My hands tingled constantly and I couldn't turn my head to the right without it clicking.

Prior to my first massage session with Howard, I had seen a chiropractor, had physical therapy, and had been to a pain management specialist who prescribed me drugs. All of which only provided palliative care but never fully resolved the issue.

After my first visit, I was insanely surprised at how awesome I felt. I couldn't believe how loose my head felt on my shoulders. My head turned with such ease. The next day I was still feeling relief. As well as the day after and the day after and the day after. It wasn't until a week had gone by that I decided that I needed to continue treatment to see how much further I could get with removing all of my aches and pains.

I had been having low back issues as well and had a massage therapist work on it in the past, but there were residual flexor pains that just kept giving me grief. I had Howard work on those muscles as well, as I continued to treat my neck and shoulder to get my upper body to the point where I could start doing some strengthening exercises with weights. My upper body over the past few years had really lost a lot of its mobility and strength and I was not happy about it at all.

After eight massage visits in 10 weeks, I have not only been pain-FREE, but able to lift 16 lb. weights to get my biceps back, as my poor arms had turned into chicken wings. Now here I am at 56 years old and I can see and feel significantly more limber in my neck and stronger in my shoulders and upper spine.

Now I see Howard about every 6 weeks just because I like feeling 100%. I can work out daily now and no longer have issues with my neck, shoulders or lower back. Best of all, the tingling in my hand has disappeared. And to think I almost agreed to having surgery on my wrists, when all along the pain was a result of the pinched nerve in my neck and trigger points in my forearms.

I strongly recommend anyone who suffers from ongoing pain and has NOT tried trigger point therapy by Howard to give him a call and set up an appointment today. And NO, he is not paying me to write this and I am not receiving any compensation for this endorsement. The guy really does know his stuff! You will be super happy with the results of his treatment because they are immediate--you will walk out of his office feeling so much better than you did when you walked in."
- Lisa-Marie
Zephan Luxury Soap
Cocoa Village, FL
https://ZephanLuxurySoap.com
https://www.facebook.com/zephanluxurysoap


Already Tried Every Conventional & Non-Conventional Treatment for Chronic Neck Pain
"I am a 70 year old female in relatively good health. I first visited Howard Northrup for relief from chronic neck pain caused by the onset of arthritis. I was not familiar with trigger point massage therapy, but since I had tried every other conventional and non-conventional method, I thought I would give this a try. A friend of mine had been referred to Howard and he was able to relieve her neck and back pain tremendously. After just a few treatments, I began to notice that the pain in my neck was diminishing. As time went by, the pain became a mild discomfort and eventually was negligible. I return to Howard on a routine basis now – once a month or as needed – for Wellness Massages."
- Donna G, Melbourne, Florida
Seven Years of Chronic Neck Pain Alleviated
"I've had neck and head pain since 2015. The pain I was having limited my ability to concentrate, exercise, and carry out my routine when it was flaring. I scheduled trigger point therapy sessions with Howard.

Over time, the therapy helped pin point the pain and alleviate it. Now, I'm able to work when there are flare ups and that extends the time for normal activities.

Howard is caring and works to help his clients on many levels. His expertise as a health coach regarding was invaluable. He educated on many health issues I had not previously understood. If you're thinking of trying massage therapy or need a Health Coach to educate you on your health issues, talk with Howard to learn how you will work for you."
M.W., Cocoa
---

A common cause of shoulder pain is an old injury that can limit the range of motion of the arm, causing pain when reaching overhead or behind you. Depending upon how long the problem has been there, the pain may be coming from any (or all) of the rotator cuff muscles, the upper arm muscles, and the chest muscles. One problem that I have had success in treating is adhesive capsulitis (or "Frozen Shoulder"). It's more common in women and in those who also have hypothyroidism (underactive thyroid gland), especially after having surgery and wearing an arm sling for 6 weeks.
Severe Pain Relieved in One Massage Session
"I was experiencing severe pain in my left shoulder and extending down the arm almost to the elbow. It was easy to figure out that this happened because of spending long periods of time on my computer. I use my left hand to move the mouse and, because of the configuration of my workstation, my left arm was held in a rather unnatural position. Heat and exercise did not relieve the pain. It was then that I made an appointment with Howard and with only one massage session the pain was gone and has never recurred. This seemed like a miracle to me because the pain had truly been debilitating. Thank you, Howard!"
- Linda C., Satellite Beach
"After being diagnosed with a bone spur in my right shoulder, I had severe pain in the muscles surrounding the spur. The pain was affecting my everyday life and making normal things very painful. I scheduled an appointment with Howard and he massaged the trigger points in the muscles surrounding the shoulder. The next day I am 95% pain free. I look forward to my next visit with Howard, he is a miracle worker.&quot
- Fred Bolden, Palm Bay
"Caring personality. I'm comfortable with you and your ability to heal (you saved me from shoulder surgery)."
- N. C., Palm Bay
"I have been seeing Howard for therapeutic massage for my neck and low back pain for several years. I am always amazed at how much better I feel after a session with Howard. I had a cervical fusion 17 years ago, and also have a herniated L5-S1. I have high hopes that with continued therapeutic massage, and trigger point therapy, I will not have to undergo spinal surgery again!

Ten years ago I had surgery for my shoulder which was painful and popping out of joint. The last month or so the same shoulder had become very painful and felt unstable. My plan was to get a referral to an orthopedic MD and see if he would prescribe physical therapy – hoping to avoid shoulder surgery again. In desperation for some relief I thought I would go see Howard first. I was very skeptical about trying massage for this problem, in fact was pretty sure that he wouldn't be able to help me – but felt it was worth a try. I also worried that my shoulder would pop out of joint. I explained all of this to Howard when I met with him, and answered his many questions. That night, after massage and trigger point therapy I was totally amazed! My pain was at least 50% better and the shoulder felt much more stable. I returned as scheduled to see Howard five days later and was able to tell him that I was 75-90% better than prior to our last session. It had been a struggle to do even small tasks – especially taking a shirt off – and I can easily do this now! I have been telling my family and friends that it is like a miracle!

I believe we have this much success because Howard and I communicate during massage/trigger point therapy. I thought that more pressure was better – but have learned that I need to tell him when I need more or less pressure to get the best results. It took me awhile to realize that I needed to tell him when he found a trigger point during massage because "moving" hands are what I always thought would make me feel better. However, trigger point therapy done the way Howard does it, requires pressure to specific areas without movement of his hands. This may not feel "good" – but what I really want is to feel better when I leave, not a relaxation massage. I have been a nurse for 28 years, and our jobs are brutal to our bodies. Thankfully, for me, there is Howard who keeps me feeling good and able to continue to work."
- Kim, RN, West Melbourne
Pain Gone and Shoulder Mobility Restored
"While playing basketball, I fell and landed on my left shoulder. It was badly bruised, extremely painful, and I had very limited mobility. For a couple of weeks, I had trouble putting on shirts, because I could not raise my arm. At the time I was working in Mexico. When I returned to the U.S. a month later, I went to the doctor. X-rays revealed no one damage, so I was referred to an orthopedic doctor, and given an appointment almost two months later. All during this time I was in pain, and had only about 50% mobility in my shoulder. After another month long trip for work, my appointment was finally getting close, I called to confirm, and spent 45 minutes being transferred, before being hung up on. At my wife's urging, I made an appointment to see Howard. I wish I had done it sooner. After one treatment, there was clear improvement, my pain was significantly reduced, and my mobility increased to around 80%. After the second treatment, my mobility was about 90%, and most of the pain was gone. After the third treatment, I recovered full mobility, am now pain free, and have all my strength back. I thought for sure I was going to need some kind of surgery, but, thanks to Howard, I do not need it."
- John A., West Melbourne
Old Shoulder Injury No Longer Painful
"I had acute muscle/tendon pain in my right shoulder and upper arm with certain lateral motion or positioning, such as reaching behind me. It first appeared several years ago and "mostly went away" until about 8-10 months before seeing Howard about it. I must have aggravated it because it came back worse than ever. After 8-10 months of "waiting for it to go away again" I realized I needed to pursue a better plan. I had to constantly be aware my limitations and avoid the movements that would cause pain. If I forgot and reached or lifted something the wrong way it would be followed by 30 seconds of intense pain like a severely pulled muscle. I tried hot and cold packs, a sling, arnica gel, without any permanent progress. It wasn't getting any better.

At the first massage therapy session, Howard spent about 15-20 minutes probing for scar tissue and/or trigger points in the shoulder and upper arm down to the elbow. We tried to use positions that recreated the pain to pinpoint locations to target. Howard finds several hot spots at each session. After that first session, the pain would still occur with the "bad" arm positions but it felt more "loose" and I found I could reach a little farther before the pain would intensify. That lasted about a day and it regressed back to the way it was. After the third session it was feeling better but not great. After the fifth session, the good, loose feeling would last 2-3 days. Each session found fewer trigger points and the number of days of feeling good lasted a little longer. After the 8th session I was able to start doing pushups regularly. This helped to strengthen the shoulder/arm muscles and speed up the therapy. I have just had my 10th session and I rarely have any painful episodes; I am doing pushups every other day, increasing in number. My range of motion is nearly normal – only reaching my hand up my back toward the shoulder blades has less range than my left arm. I can push, pull, lift and throw with my right arm without feeling like I am tearing a muscle or causing damage.

I would highly recommend letting Howard work on a similar problem. Howard has the patience to probe the individual muscle groups to locate the problem and the knowledge to know what muscles and tendons affect certain motions and can cause pain in a particular area. I would also recommend patience with the healing process, especially if it is an old ailment. Sometimes lasting progress occurs in small steps."
- B.B., Melbourne
"The two most important traits in a massage therapist are knowledge and comfort. Howard scores a 10 in both categories. Howard is the most knowledgeable massage therapist in the area. His knowledge of the various conditions that can plague the human body is remarkable. Howard provides the best medical massage because he is result oriented. He listens to your symptoms and creates a wellness plan.
I had symptoms that had bothered me for weeks and Howard relieved them in 3 sessions. Howard makes you feel comfortable right away with his caring but no nonsense approach in a professional environment. When friends or family have aches and pains, Howard is where I refer them."
Maryann.K., Melbourne
"A friend recommended that I contact Howard because I was having pain in my neck, shoulders, and back. Had tight knots under my shoulder blades that were very painful. I suffered from this for about 14 years or so. The pain and discomfort were gnawing. I couldn't get decent sleep, I was always irritable, and used to seek relief in alcohol and other unhealthy depressants. The pain and tightness caused for a short range of motion on my limbs and for me to clench my jaw, which led to a number of complications with headaches and broken teeth. Over the years, I had tried many other remedies and therapies. Almost everything I tried: diet, exercise, meditation, yoga, stretches, massages, massage therapy, oils, liquids, muscle relaxers, anxiety meds, sleeping pills, drugs, alcohol... you name it, I tried it.

At my first session with Howard, he made me feel immediately comfortable talking to him. I didn't understand at first, because his massage therapy is a little different from other places. It's more personal. You're not just another patient. Everything is very much customized to whatever needs you may have. It is immediately evident once you lay on the table that his approach is very different. Took some getting used to but I'm glad I did!

After the first session I didn't feel much different. I was getting the hang of it and the problem was pretty severe. After the second and third sessions I began to notice a dramatic change. To wake up, feeling good, rested, to sit and read and not feel my body pulled down, to feel relief, normal, after so many years, was a great feeling and made me glad I stuck with Howard to see where he was going with his method. It works.

It took about 6 session to get the problem under control. I was doing pretty darn good after a couple of months. I was able to sleep better. My stretches are actually productive now. Working on my posture and other habits. Just feel overall relieved, like a load was taken off my back, and feel free to explore other endeavors that pertain to my health. I also have a longer range of motion on my limbs and neck.

If you are considering seeing Howard for pain relief, try it. Don't be turned off by his approach. It's not like the same massages you're used to, so it may seem like it's not going to work. Stick with it. He knows what he's doing and can take pains you've had for years away in seconds or minutes, right in front of you, while you lay there. You can go home feeling anew after just one session. Stick with it and see it through, you'll see results."

- Lilly H., Palm Bay
Frozen Shoulder Full Mobility & Function Returned
"I have been seeing Howard for deep tissue massage for more than 17 years. Several times over that span I have sought treatment from him for a frozen shoulder. The most recent episode occurred after shoulder surgery for a torn rotator cuff muscle and bone spur. I found that the massage helped to relieve the tension and tightness in the shoulder so that eventually my muscles could relax. It also helped to restore my mobility and improve function. The techniques that he used seemed to help improve the blood flow to the affected area and reduce inflammation.

The massage sessions combined with the stretching exercises improved my flexibility, increased the range of motion, and lengthened the muscle fibers so that the full function of my shoulder returned. We initially started with a full hour session and then followed with weekly half hour sessions for 10 weeks. As the shoulder pain reduced and the range of motion increased, we reduced to every other week and then to monthly. I would highly recommend Howard for frozen shoulder issues or any other muscle condition as his skill, expertise, and genuine caring over your well-being is evident in every session."

- M.M., Suntree
---
Low Back Pain




Low back pain is the number one reason that people try massage therapy for the first time and they are usually thankful that they did, instead of opting for low back surgery. In fact, "failed low back surgery" is so common that there is even an insurance billing code for it! Many times, the pain is coming from the muscles and tendons, but low back surgery only addresses the spinal column, not the soft tissue. Low back pain is usually felt at one side of the low back or across both sides of the low back and hip bones.

"You are a miracle worker."

- Brenda E., Melbourne
Couldn't Stand Up Straight, But Avoided Trip to E.R.
"After lifting a heavy bag of dog food one evening, the next morning my low back was in a lot of pain and I could not even stand up straight. I saw Howard that morning and he told me he would first check to see if it was a muscle problem and if it wasn't, it could be something more serious than he could help me with. Within a minute or two of massaging, he found some very painful spots in my low back muscle that he told me were trigger points. He held pressure on each one to a pain level I could tolerate while I breathed slowly and deeply. Each one released and within ten minutes, I could already tell that it was feeling better. I was then able to stand up straight with only a little pain.
When I saw him again one week later, I told him that I was amazed that it was 80% better than before he worked on it. After he worked on it a second time and found more trigger points that all released, it was 100% better. He told me that it improved quickly because he was able to work on it soon after it happened (less than 18 hours), instead of many people who don't call him until a week or more after they hurt themselves. I would recommend to anyone who has pain like I had to call Howard as soon as you can to see if he can help you. I'm sure glad I did!"

- Carole S., Titusville
New Mother's Excruciating Pain Not Helped by Chiropractic
"I first went to Howard because I had re-injured my lower back at 8 weeks postpartum, by picking up my daughter's car seat with her in it. It was excruciating for a new mother to be in more pain from this than a C-section just 8 weeks prior. I was very limited with my range of motion, and it was difficult to care for my new baby. I went to Howard about 10 weeks post-injury after a family friend referred me to him. I am forever grateful. The problem greatly affected my ability to care for my new born daughter. It was excruciating to pick her up. Often, my back would spasm and give out, while picking her up. We breastfed and that was very difficult every two hours to sit and feed her.

Before getting massage, I tried Chiropractic, but it DID NOT help. In fact, it felt worse. My first massage session was PAINFUL, but not because of Howard. It was due to the amount of trigger points that I had. Howard was very attentive to my pain level, and reminded me to take deep breaths through each trigger point. Howard took the time to get to know the history of my lower back injury. He asked a lot of questions, and really took time to listen to my concerns. At first, I was intimidated that I would be getting a massage from a male massage therapist, but Howard has a wonderful persona that immediately made me feel at ease.

After the first session, I felt some relief, but was not in the clear. I was still experiencing the spasms, but not as often. I noticed everywhere there was a trigger point, it was sensitive and felt bruised. Ice helped a lot! After each session, I noticed gradual improvement. It took 8 sessions to get the problem under control! Howard told me that was a lot, and that it typically takes about 3 sessions. My lower back issue was too out of control before Howard could work his magic. I try to go once a month for maintenance.

Before seeing Howard, I was unable to exercise!!! He healed me, and I am proud to say that I was able to get back into a post baby exercise routine and lose 30 lbs! I feel as if he has given me my life back! If you haven't tried trigger point therapy from a trusted massage therapist, you are missing out on life. You must see Howard! Howard has a gift, and through his healing hands, can save you from surgery, and give you your life back! Thanks, Sean, I am so glad I followed up with your recommendation to see Howard. Thank you, Howard, for healing me!"
- Natalie L, West Melbourne
So Painful That He Couldn't Get Out of Bed
"I was sitting in my office chair and turned to my left side. The next day I was in so much pain that I could barely get out of bed. I never suffered an injury to my lower back before - it was extremely painful. I had difficulty walking, it was impossible to find a comfortable position, and it was hard to get in and out of the car, so I limited all my activity.

I had the problem for three days, so I called my Doctor's office only to learn he was out of town. The office manager told me that the Doctor wouldn't be able to do much for a lower back injury and that I should take it easy for two weeks. My son recommended that I call his massage therapist, Howard. He understood that I wasn't mobile and he came to see me as a House Call.

The massage sessions were very comfortable and educational. I had pain relief after each session and it was under control in 3 sessions. The first massage provided much relief. I followed up with Howard at his office in three days for a second visit which provided even more relief. I felt like I was at 80% improvement at that point. A few days later, the third massage. All the pain was gone.

The good news with Howard's massage therapy is that I didn't have to take any medication. I iced first and used heat later as Howard recommended. I believe I recovered much faster because of the thoroughness of Howard's massage sessions.
I am taking better care of my back now with stretches and low impact exercising. I am back to my normal daily activity. I have to mention that I purchased a new office chair that provides much better support to my lower back because of Howard's evaluation and recommendation.

For anyone who is considering seeing Howard for the same problem, I have 100% confidence in his ability to find the problem and treat the pain.
"

- DuWayne A., Melbourne
---



Pain in the middle of the back is not as common as low back pain, but it's becoming more common as we sit hunched over at a computer. Sometimes, the pain can even radiate to the front of the body and seem like a chest pain.

"Last spring I was responsible for a particularly stressful project. Unfortunately, it was also a very physical job, that included a great deal of heavy lifting. After a couple weeks of this environment, my back was so tight that the pain was migrating into my chest as well. I was actually ready to go to the doctor to get checked-out. I ran into Howard and decided to get a massage just to see if it would help. I knew I was stressed-out. But I had no idea that my back was so tight, until Howard started to work on it. The first session, he did an hour of deep-tissue and trigger points on my back, during which most of the time, I spent groaning. What a strange combination of pain and relief. All I knew was, ....I immediately felt better. It actually took a couple more sessions to get the muscles in my back to loosen up to a state of zero pain, but each session brought a marked improvement and after a few sessions I was completely pain free. I was very happy with the results physically. Also, I am now less stressed as I have a better understanding of how I got to that point, as well as how to deal with it. It was an relaxing and healing experience on multiple levels. Thanks, Howard.

"

- Kevin S., Melbourne

"Howard got rid of my problem back pain when nothing else worked."

- M. Y., Melbourne
---
Hip Pain

Another common condition that Howard has helped thousands of people with is hip pain. It's usually felt deep in one buttock, but can also cause problems down the leg on that side from pinching the sciatic nerve. Many people find that they can't sit for very long due to this type of pain, with a small percentage finding that they even have to stand up to eat their meals.
"I have used massage therapy for over 30 years to relieve chronic pain in my lower back and hips due to an injury I received while waterskiing. Through the years, I have tried everything to relieve the constant pain. I have found that the one thing that works for me is massage therapy. I found relief from pain while improving my range of motion and functional abilities. I truly believe in the healing power of massage. I have become very particular in choosing a massage therapist throughout the years. Each therapist has their own technique and approach towards massage and health.

Howard has been the best I have found in reaching the deep rooted problems I have developed over the years. As I expressed to him particular problems I was having, he listened intently and seemed very in tuned to what I explained to him. In the first session I had with Howard, he seemed to immediately find my troubled areas. His technique of massage, trigger point, and release has been the greatest pain relief I have ever encountered. On my second session with Howard, I felt as though the weight of the world had been lifted from my shoulders and my lower back felt the best it had ever felt in over 30 years. Howard had given me a new lease on life and the chance to enjoy all the things I thought I would have to give up due to my chronic pain. I told everyone I know about Howard and I am telling you now what he has done for me. If cost is a factor, stop and think about what your health is worth, can you put a dollar amount on it? Massage therapy has improved my life with the relief of every day stress, improving my blood pressure and ridding my body of toxins. Howard has given me pain relief so that I may now enjoy a better tomorrow."
- J.K., Melbourne
"After being diagnosed with Piriformis Syndrome I tried physical therapy, epidural injections and acupuncture without success. I went to Howard as a last resort not really expecting relief but he used deep muscle therapeutic massage and after 3 sessions I began to feel improvement. After another 2-3 sessions I was just about back to normal. I continue to do the stretches that are on Howard's website and now several months later I am still pain free. I would not hesitate to recommend Howard Northrup and therapeutic massage to anyone with Piriformis Syndrome."
- B.G.
Hip Pain Nearly Made Her Stop Exercising
"I had been experiencing intermittent pain in my hip for many years.  Because power walking was the form of exercise that seemed to cause the discomfort, I usually avoided it; however, I decided to enter a 10K event that required power walking.  My hip hurt for a month afterward.  Almost a year had gone by and I truly wanted to participate in the event again, but I thought my hip would put me on the sidelines.
At my first visit Howard fully explained deep tissue massage; he worked on my hip weekly for a month.   I was amazed that I experienced improvement after only one session.  After each session there was more improvement.  After four weekly sessions, we decided that my problem was under control and that I might simply do monthly maintenance.
I just walked my 10K event with an improved time and absolutely no discomfort in my hip! I believe in Howard! He is so professional and caring; he listens carefully and explains fully."
- L.L., Titusville
"I have been seeing Howard since 2003 for neck, back, and shoulder pain. Recently I developed pain in my right hip and thigh. The pain was so severe that I was sure I would need surgery. Any change of position caused an increase in my pain, and sitting was almost impossible. After 2-3 weeks of suffering I decided to see Howard before making an appointment with an orthopedic surgeon - and once again he amazed me with awesome results. I saw Howard once a week for three weeks for my hip pain.
After the first treatment (I use the word treatment because this wasn't just a massage - it was trigger point therapy focusing on my hip) I had 50% less pain. Howard showed me hip stretching and strengthening exercises - and followed up by emailing me pictures and instructions of these exercises. By the second appointment I had about 75% improvement in pain, and by the third 90%. It has been almost 1 1/2 months since my last appointment and I have ZERO pain in my hip!

Howard is so much more than a massage therapist - he is a professional who uses trigger point therapy to alleviate pain. I highly recommend giving Howard a chance to help you prior to taking medications or seeing a surgeon for whatever joint or spine issues you may have. You might just find, like I did, that he can keep you off of an operating room table!"

- Kim, West Melbourne
(
No Longer Has to Eat Standing Up
"I first saw Howard because I was having pain in my hip that caused me to have to eat and work standing up--I could not sit for more than a few minutes. Car rides and plane rides killed me. And once I stood up, my leg wanted to collapse until the muscles released, which usually took about 30 seconds, so I had to brace myself. The pain was similar to sciatic pain.

I had the problem for about 30 days and tried chiropractors, saunas, and whirlpool, but nothing helped. Before getting massage with Howard, standing or lying down were the only comfortable positions. I tried other massage therapists, chiropractors, and stretching videos via google, but they didn't help either.

My first session with Howard was a good session, focused on trigger points. It was at a comfortable setting and was very professional. After the first session, I was sore but had relief for a few hours, which Howard explained was a promising start. I did four sessions in the first 2 weeks and by the end of those sessions, I was able to sit for an extended period of time. As the problem improved, I was able to stretch the sessions out to one a week for about 5 weeks.

The pain has virtually disappeared, so I'm now on monthly maintenance sessions. The best part is that I am back to normal--car rides and long plane rides no longer hurt. I can also now eat and work sitting down and no longer stumble when standing up. For someone who's considering getting massage for the same problem, I recommend Howard highly. He is a safe alternative to the options out there. NO meds needed."

- Mike S., Satellite Beach
Long Commutes for Work Caused Severe Pain
"I
was referred to Howard by a friend because I was having severe pain in my low back and hip. The pain started in my low back about 2 to 3 months earlier, then it started sending pain down one leg and eventually down the other leg. I do a lot of driving for my work and it was getting very difficult to get through a long drive. I couldn't exercise because of the pain or do much around the house. I bought a seat cushion with a cutout at the back to see if that would help, but it didn't. I also bought a cushion for my low back and that seemed to help some, but I still had a lot of pain.

I never had massage therapy before, so Howard recommended a 30-minute session, based on that and where my pain was. At the first session, after he explained what he thought the problem might be, he described what he would do to try to help it and what I needed to do for my part. He warmed up the muscles where the pain was, then went deeper into them. He found a total of 12 tender trigger points in my low back muscles and another 15 in my hip muscles. They all released with his pressure and my deep slow breathing, so he said that was a good result for the first session.

Howard warned me that I may be sore for a day or two after the massage, but I wasn't too sore and my low back and hip felt 90% better!

I went for a 30-minute session every 2 weeks to continue making progress. Even though I still had quite a few trigger points each session, I was hardly noticing much pain after 5 sessions, so I was able to start going once a month for maintenance. I can now drive a long distance with only a little pain now and then and I'm able to start exercising again.

If you have muscle pain in your low back, hip, and down your leg that won't go away and you aren't sure what to do, I highly recommend massage therapy with Howard! I don't know what I would have done without him. He has truly healing hands!"
- Tim H., Viera, Florida
Pain Gone After Just Two 30-Minute Sessions
"So you will see a lot of testimonials here and think: "these can't all be real". Well, I'm here to tell you - I believe every single one of them. And I'm about to add my own! My story? Near perfect health until two things happened:

1. Fell 10 feet out of my attic to a concrete floor.
2. Spent way too many hours sitting at the computer leading up to November election.

Started feeling pain from butt to foot, and the pain kept getting worse - like my sciatic nerve was on fire. Couldn't sit, couldn't sleep, and driving? Forget it. Went to my GP, he confirmed that yes - it was the dreaded Piriformis Syndrome. Yikes! He recommended what I had already started doing: ice/heat/ibuprofen. Prescribed mild muscle relaxant and a steroid for inflammation. Also sent me to PT to develop exercise routine.

Two weeks later - STILL VERY LITTLE RELIEF. Losing faith in the health care system. So two trusted friends told me about Howard. And OMFG - after just one treatment I experienced 70% improvement - I kid you not! Amazing what a knowledgeable, ethical and compassionate person can do. No ulterior motives, reasonably priced, even shares his idea of the "ideal client" so he doesn't take on so many that he can't do justice for each one.

Okay, that was long-winded. Suffice it to say, I am one happy customer. Howard - take care of that hand, cuz I need you around for a while!"
- Claudia T, Mims

Got His Life Back After Two Sessions Within One Week
My job involves long periods of time sitting and when one morning my back went out and my sciatic nerve pain had me laid up in bed for 3 days, I became very worried. I was worried that I was going to be stuck in this state of pain. After a couple of weeks of pain and not having the ability to lift anything, sit or stand for any amount of time at all I didn't know how I was going to continue to provide for my family. I was trying anything I could do outside of surgery. I was on steroids, seeing a physical therapist, chiropractor and even another massage therapist.

A good friend recommended Howard for when I came to visit. Laying nearly flat the entire drive to FL and in constant pain nearly the entire ride, I didn't have much hope for getting better. I was skeptical that massage therapy would do any good since I already saw a massage therapist before I left. When I first saw Howard I was really impressed with his knowledge and professionalism. His approach was unlike any other massage therapist I've worked with before. After the first session I could tell that I wasn't stuck. His advice for after care really started me on the path to recovering from the pain. After the 2nd session, I was just further convinced that Howard has a unique gift for the trade and a truly healing touch.

After following his advice I now feel like I have my life back again. I can do all the physical activities I did before. Even though I was from out of town and came to see Howard only twice, he treated me like someone who he was going to see the very next week. He told me how to find a similar treatment and even though I didn't find the care I would have with Howard, I credit the approach that Howard took for the reason I am now in a better place.

For anyone suffering from sciatic pain, I would highly recommend Howard's one of kind approach. His use of trigger point massage is unlike most massage therapists and whatever journey you are on to healing a visit to Howard will not disappoint.

- Sean, Oak Ridge, TN
---



One of the most effective therapies for Fibromyalgia Syndrome (FMS) is massage therapy. However, many massage therapists are not skilled enough to adjust their hand pressure to accommodate someone with the pain sensitivity of Fibromyalgia. Howard has developed a skill for using a pressure that gives the most relief. The best type of massage for someone with Fibromyalgia is Relaxation Massage, since it does not use deep, firm pressure.

Finally Has Relief from Pain

"I have suffered with Fibromyalgia since 1996 and I've seen many different massage therapists at many different locations. It wasn't until I found Howard in early 2004 that I began to remember what life was like before the pain. Howard has an amazing ability to "read" my body and to apply just the right amount of pressure to just the right area for me to get the most benefit from my treatment. I've been regularly going once per week and recently I was unable to make my appointments 2 weeks in a row due to work problems…well, I could definitely feel it. I knew I got great benefits from my massages, but I didn't realize how big the benefit until I went without it. Now I definitely won't miss an appointment. I'm moving out of state soon and I'll be sure to call Howard whenever I'm back in the area. I don't think I can find a therapist like him in Louisiana …He's irreplaceable!"

- Jennifer, Melbourne (& Louisiana )

"You knew what my body needed from a therapists point of view without disregarding what I was telling you I 'thought' I needed/wanted. You listen to me, and interpret from that the stress I've had and what area will need to the most attention. "

- P. W., Melbourne
---



Pain at the elbow doesn't have to come from playing tennis, but Tennis Elbow is a common name for that type of tendinitis pain. Usually, it's caused by gripping a heavy object or gripping any object for too long. But it can also be caused by overuse at a computer keyboard, since the long muscles and tendons that move the fingers are attached at the elbow. Howard has found three separate techniques that are helpful in relieving this type of pain and he assigns a "homework" stretch that is very effective to do between massage sessions.

Can Play Tennis and Go Fishing Again

"I have played tennis for 20 years. About 3 years ago I developed a severe case of Tennis Elbow. The pain was so severe that I stopped playing tennis and going fishing all together. I did the traditional therapies - pain pills, physical therapy, cortisone shots. I stopped just before they wanted to do surgery. I had been getting massages for my back where I have 5 ruptured discs. I mentioned to Howard during one of my sessions that the pain in my elbow was intolerable. Howard started his magic and within a few sessions I started to feel better. It took a while to get back to my old self but now I play tennis a couple of times a week, work out in the gym 5 days a week and have now dropped 42 pounds. Thanks for all that you did - you helped me get part of my life back."

- Shawn B. Palm Bay
---



For most people, pain at the wrist is caused by the long tendons that attach at the elbow. A simple test to see if wrist pain is coming from the elbow is to press on the area just below the elbow on the top of the forearm and see if there is pain there. Even Carpal Tunnel Syndrome can be treated successfully using therapeutic massage techniques on the forearm.

No Help from Acupuncture, TENS, or Steroid Drug

"

I had pain on the thumb side of my wrist at the joint and down to the knuckle of my thumb. It was diagnosed as Tenosynovitis, which is inflammation of the tendon sheath (Painful). It affected everything from work, exercise and household, such as gripping and holding weight. I had acupuncture, tried TENS treatment, ultrasound, saw an MD, and got a prescription for a 7-day steroid pack, but each of those did nothing for me. I had the problem for several months before going to Howard. The massage sessions were great because Howard knew exactly which trigger points needed to be released. And after each session, I felt that he was helping me heal. After the first session, my thumb felt much better and I was able to cook for 8 hours. After the second session, my thumb only had soreness instead of pain. After seeing Howard for a total of 12 sessions, I had no more pain in my thumb and only a few trigger points remaining in my forearm. For people who are considering massage therapy for this type of problem, definitely go see Howard!! I waited too long before deciding to see him, so glad I did. Thank You, H."

- E. S., Indialantic
---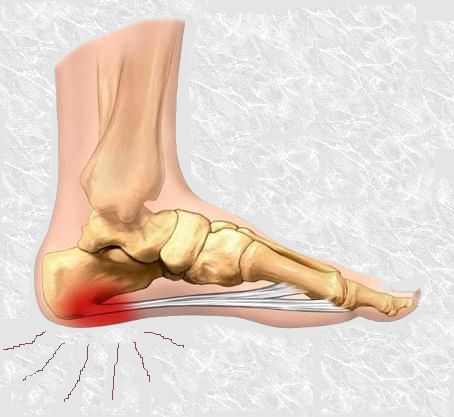 When there is pain in the heel that is worse when first stepping out of bed in the morning but feels better after walking around some, a doctor may diagnose it as Plantar Fasciitis. Unfortunately, steroid shots, wearing a nighttime boot, and physical therapy do not address the real cause of the pain and do not help many people. Howard uses multiple therapeutic massage techniques to give relief from pain, usually noticed after the first session. He also assigns a "homework" stretch that is helpful to do daily between massage sessions.

"I am a life long distance runner who has suffered for years with plantar fasciitis and have finally found the cure. Howard's deep tissue massages have kept me pain free, and I would not be able to continue doing the sport I love without his expertise and skill as an understanding and caring massage therapist."


- B. Fine, Satellite Beach

"I had plantar fasciitis several years before going to Howard and had been in frequent pain on and off for several months. On a daily basis, it made it difficult and painful to walk, considering I walk back and forth all day at work and work outside. I tried self exercising each morning and throughout the day as well to stretch the muscles to release the muscle and alleviate pain.  The first massage session with Howard was very relaxing and pleasant. There was a huge difference after that first massage and I didn't have to come back as frequently as we had planned. It only took two sessions to get the problem under control.  If you are considering seeing Howard for your plantar fasciitis, do not hesitate to go.  You won

't be disappointed."


- J. Davis, Palm Bay

Pain and Limping for Four Months Gone

"I went to Howard to see if he could help the plantar fasciitis that I had for four months. I was in pain and limping every day. I had been using a "boot" at night, doing stretching exercises, and receiving frequent chiropractic adjustments, but was still in pain.
At my first appointment, Howard was empathetic, explained the cause of the problem and how long he predicted I would need treatment. While the process was uncomfortable, he never pushed me beyond my pain threshold.
After the first session, I experienced noticeable relief. Additional sessions yielded more relief and by the end of the sixth session, I felt 95% better. Now, I often go for a few days forgetting to do my maintenance stretches because I am experiencing no discomfort.
I highly recommend Howard for people experiencing plantar fasciitis, as well as other conditions he could help."


- Betty, Titusville
---